Daniel J. Fitzgerald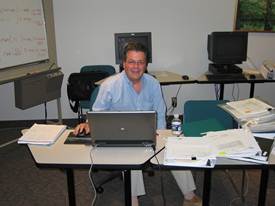 Sr. Quality Scientist/Team Leader
Dan is a Certified Quality Engineer with 20+ years of research and development experience in medical diagnostic product development. His distinguished history of immunoassay development includes point of care testing and random access immunoassay reagents and instruments. Dan has extensive product development management experience from conception to market introduction.
Dan has served as a combination device industry consultant in the following quality areas: QSR, Design Control, Design Verification and Validation, Process Validation, and Test Method Validation.
EXPERIENCE:
Consultant
Combination device industry consultant in the QSR, Design Control, Design Verification and Validation, Equipment Validation, Process Validation, and Test Method Validation
Senior Quality Engineer, LifeScan, Inc., a Johnson & Johnson Company, Milpitas, CA
Led the quality engineering activities during the development and manufacturing of new diabetes and cardiovascular business unit products.
Applied Process Excellence/DMAI2C tools to project and continuous process improvements.
Conducted new product risk assessment with tools such as FMEA, Fault Tree Analysis, SRA.
New product design verification and validation (DOE, GR&R, SPC, CPK, Minitab), new manufacturing process (IQ/OQ/PQ) and test equipment/method validation.
Verified products were developed and manufactured consistent with design control, QSR, cGMP, GCP, and GLP requirements and other US (FDA) and International (ISO 9001/46001/13485) regulatory standards.
Created DHF, DMRs and DHRs; completed design transfer to manufacturing; applied NC/CAPA system.
Verified product-labeling claims were validated and linked to applicable US and International regulatory standards.
Verified conformance to the European Union Medical Device and In Vitro Diagnostic Directives, Canadian and Russian country specific requirements to certify CE, CSA, and Rostest markings.
Director, Point of Care Technology, Biex, Inc
Directed a $2M project budget and a multi-functional team in the development of point of care technology for the diagnostic management of pre-term labor, using a saliva sample with a hand held immunochromatographic test device.
Manager, Product Development, Beckman Coulter, Inc.
Managed eight assay development scientists with an annual departmental budget of $1.2M transferring products into manufacturing and through commercialization.
Manager, Research and Development, Nichols Institute Diagnostics
Managed five assay development scientists and an annual departmental budget of $240K.
EDUCATION:
BA Microbiology/Chemistry – Cum Laude, University of Minnesota
Certified Quality Engineer (CQE), American Society of Quality (2003)