Hann-Ping Wang, PhD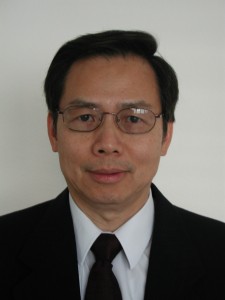 Sr. Quality Scientist/Certified Quality Auditor
Dr. Hann-Ping Wang is a PhD biochemist from Wayne State University with over 30years' experience in Quality and Regulatory Compliance, and Product Development in the Medical Devices, IVD, Pharmaceutical and Biotech industries. He is an ASQ-Certified Quality Auditor.
Dr. Wang's solid, working,experience-base includes:
FDA registration
ISO900
510(k), PMA
CE certification
CLIA
cGMP
Development of one-step and platform-based immunoassays
Technical marketing communication 

AutomationCapillary and gel electrophoresis
Enzyme kinetics
Affinity chromatography
Isoelectric focusing
HPLC
Protein purification, conjugation and radiolabeling
Dr. Wang's development involvement has won him seven FDA 510(k)s in the one-step test product line, six U.S. and European patents in capillary electrophoresis, and a U.S. patent in multi-analyte, time-resolved fluorescence immunoassay.
EXPERIENCE:
Co-founder Excel Scientific, Inc. Yorba Linda, CA
Developed one-step lateral flow immunochromatographic assays.
Developed domestic and overseas markets for diagnostic products\
Managed daily operation of the company, which is registered to the FDA and State Health Department as a medical device establishment.
Received seven FDA 510 (k)s
Organized exhibits at the 1998 Medica Trade Show in Dusseldorf, Germany.
Project Manager/Senior Staff Scientist, Beckman Instruments, Brea, CA
Directed R&D activities in the clinical application of capillary electrophoresis
Directed assay development for an automated immunoanalyzer
Managed R&D and technical support activities
Managed technical collaboration between external researchers/ clinicians
Coordinated inter-departmental collaborations
Assisted Marketing in the promotion of new technology/products
Awarded 6 U.S. patents and 6 European patents in Capillary Electrophoresis
R&D Director, Chimerix Corporation, Glastonbury, CT
Established an 8,000 square feet R&D facility and built a project team consisting of 7 scientists
Established the company's basic technology in multi-analyte time-resolved fluorescence immunoassay
Provided the Board of Directors with information and definition of R&D goals for the company
Design and development of a fully automated immunoassay system
Awarded a U.S. patent in multi-analyte time-resolved fluorescence immunoassay
R&D manager, Kallestad Diagnostics, Chaska, MN
Directed development of immunoassay kits including RIA, IRMA, EIA and IEMA
Participated in corporate strategic planning of new products
Interacted with manufacturing, Quality Control, and Marketing to ensure a smooth market release
Coordinated compilation of product performance data for FDA 510(k) submissions
R&D Group Leader, E.I. duPontdeNemours& Co., Billerica, MA
Directed and managed development of over fifty I-125 labeled compounds as research products
Proposed and developed RIA and EIA kits
Transferred technology to the Manufacturing
EDUCATION:
Ph.D. Biochemistry, Wayne State University, Detroit, MI
B.S. Food Science, Chung-Hsing University, Taiwan